Jurassic World: Dominion Dominates Fandom Wikis - The Loop
Play Sound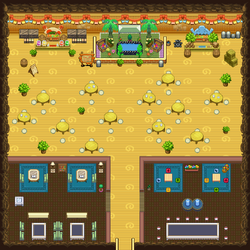 Spinda's Cafe is situated in Delite Plaza. It has the NPCs Candy the Swirlix, Spinda, Ludicolo, Wynaut, and Wobbuffet. Candy and Ludicolo run shops in Spinda's Cafe. Spinda, Wynaut and Wobbuffet presently have no activities associated with them. Ludicolo is located straight up from the entrance, and Candy is in the top right corner of the room to the right.
Candy's Shop
Candy sells consumable items in her shop for Poké.
Item
Price
Plain Seed
10 Poké
Apple
25 Poké
Ether
75 Poké
Oran Berry
50 Poké
Sitrus Berry
125 Poké
Banana
125 Poké
Lum Berry
150 Poké
Big Apple
250 Poké
Banana Bunch
250 Poké
Max Ether
250 Poké
Ludicolo's Shop
Ludicolo sells various items in his shop for Event Tokens. However purchasing Gems and Crystals come with the prerequisite of being at least Bronze Rank. Meanwhile, Globes require a minimum of Silver Rank.
Item
Price
Reviver Seed
1 Event Token
Revival Herb
3 Event Tokens
Silver Key
3 Event Tokens
Pika Hat
7 Event Tokens
Skitty Hat
7 Event Tokens
Turtwig Mask
7 Event Tokens
Chimchar Mask
7 Event Tokens
Piplup Mask
7 Event Tokens
TM Ice Beam
9 Event Tokens
TM Flamethrower
9 Event Tokens
TM Thunderbolt
9 Event Tokens
TM Psychic
9 Event Tokens
TM Dark Pulse
9 Event Tokens
TM X-Scissor
9 Event Tokens
TM Shadow Ball
9 Event Tokens
White Gem
25 Event Tokens
Fiery Gem
25 Event Tokens
Aqua Gem
25 Event Tokens
Grass Gem
25 Event Tokens
Thunder Gem
25 Event Tokens
Icy Gem
25 Event Tokens
Fight Gem
25 Event Tokens
Poison Gem
25 Event Tokens
Earth Gem
25 Event Tokens
Sky Gem
25 Event Tokens
Psyche Gem
25 Event Tokens
Guard Gem
25 Event Tokens
Stone Gem
25 Event Tokens
Shadow Gem
25 Event Tokens
Dragon Gem
25 Event Tokens
Dark Gem
25 Event Tokens
Metal Gem
25 Event Tokens
Pixie Gem
25 Event Tokens
White Crystal
25 Event Tokens
Fiery Crystal
25 Event Tokens
Aqua Crystal
25 Event Tokens
Grass Crystal
25 Event Tokens
Thunder Crystal
25 Event Tokens
Icy Crystal
25 Event Tokens
Fight Crystal
25 Event Tokens
Poison Crystal
25 Event Tokens
Earth Crystal
25 Event Tokens
Sky Crystal
25 Event Tokens
Psyche Crystal
25 Event Tokens
Guard Crystal
25 Event Tokens
Stone Crystal
25 Event Tokens
Shadow Crystal
25 Event Tokens
Dragon Crystal
25 Event Tokens
Dark Crystal
25 Event Tokens
Metal Crystal
25 Event Tokens
Pixie Crystal
25 Event Tokens
Joy Globe
25 Event Tokens
Fiery Globe
25 Event Tokens
Aqua Globe
25 Event Tokens
Soothe Globe
25 Event Tokens
Volt Globe
25 Event Tokens
Icy Globe
25 Event Tokens
Power Globe
25 Event Tokens
Poison Globe
25 Event Tokens
Terra Globe
25 Event Tokens
Sky Globe
25 Event Tokens
Psyche Globe
25 Event Tokens
Defend Globe
25 Event Tokens
Rock Globe
25 Event Tokens
Nether Globe
25 Event Tokens
Dragon Globe
25 Event Tokens
Dusk Globe
25 Event Tokens
Steel Globe
25 Event Tokens
Nymph Globe
25 Event Tokens
Pokemon Gift
40 Event Tokens