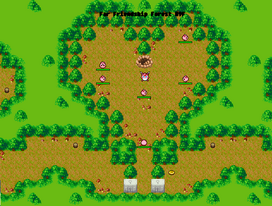 Friendship Forest was the a dungeon in PMU 6 that required a teammate to complete, much like PMU 7's Harmonic Tower. It was accessed after completing Friendship Forest.
This dungeon has now been reopened and can be found near Island Garden. To enter the dungeon the challenger must have the HM Rock Climb from Tanren Mines.
Pokemon
Lucario
Roserade
Igglybuff
Chimeco
Items
Miracle Chest
Lost Loot
Joy Seed (Blissey)
Oval Stone (Blissey)
Poké
Boss
Trivia
The Blissey had 10,000 hp.
The Blissey's respawn time was 4 hours.
Misc.
Random? No
Boss? Yes
Weather? No
Set Level? No