Jurassic World: Dominion Dominates Fandom Wikis - The Loop
Play Sound
Dream Grove (DG) is a dungeon that is located in Tanren Undercity. Dream Grove is a time specific dungeon; It will be Daydream when dawn or day and Nightmare when dusk or night. Should the time change to correspond with the other version while the player is in the dungeon, it will change once the player reaches the next floor. Hence players should consider the time before heading into the dungeon if they have a specific version in mind.
See their respective pages for more information on their versions.
Dreamy Clearing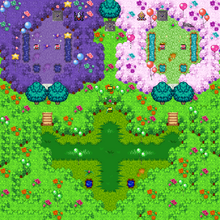 There are a total of six boxes in the room. Without either of the keys the boss drops, you can only get the two Deluxe Boxes. For the other four boxes' items, see the Daydream and Nightmare pages.
Box items:
Revival Herb
Max Revive
Relic Gold
Dungeon Objective
The main objective of both versions is to obtain the respective keys for them; Whimsical Key (Dusk/Night) and Mischievous Key (Dawn/Day). The Mischievous Key can be used to open the door after the tea room of Nightmare Dream Grove. The Whimsical key can be used to open the door after the tea room of Daydream Dream Grove. You can recruit Inkay and Skrelp or Spritzee and Swirlix in Nightmare and Daydream's Garden rooms respectively, depending on your ID. Dream Grove also spawns Vanish Seeds and Invisify Orbs which are items that aren't in the common dungeon, and both versions have items exclusive to their boxes.
Trivia
Dream Grove was created by Luli/Fayrin and Kittu.
Dream Grove was released on September 1st, 2016, which is PMU's Birthday.
This is the first dungeon to change depending on the time of day.
This dungeon is a reference to Alice in Wonderland. As such, the player is referred to as Alice.