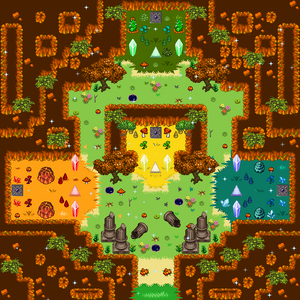 The start of the game for a couple of years, until the addition of the Summoner's Platform. This is the area where the player chooses his or her Pokémon starter. Each crystal signifies which Pokémon cavern type it leads to. There are a total of 31 starters to pick from.

Starters
 Below are the lists of all the current starter Pokémon and the locations they're available in outside of Destiny Cavern, if any.
  
Fire Cavern
Grass Cavern
Water Cavern
Hero Cavern
Into the Crystal
After stepping into the crystal, the player awakens in a wooded map leading to the tutorial in Exbel Woods.
Trivia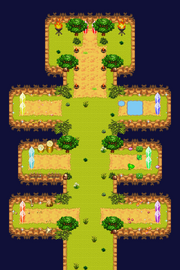 Destiny Cavern used to act as the place where players first appeared upon starting a new character. Since then, new sections were added before and after this area in order to slowly ease players into the game.
The tutorial is skipped completely if /giveup is done when a sprite is picked.
In 2011, the individual chambers used to use the same tiles as the main chamber.
The area before Destiny Cavern is called Summoner's Platform
Before the January 2019 update, Abra, Natu, Meditite, Rhyhorn, Phanpy, Hippopotas, Pachirisu, and Mareep were all starter Pokémon.

Togepi--and the rest of its Family--are now Fairy-type, but it was still included as a Normal-type Starter.
Additionally, the area comprised of 7 areas consisting of 4 Pokémon from certain types.