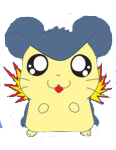 Once a generation there comes a Guild, a guild like no other. This guild becomes the very foundation of the PMU Game with every player knowing about it and its heroic actions...But until then there is the DaDono Family!
The DaDono Family is just what its name implies just think of the mafia but toned down enough to be rated G.
Objective
Nothing!
Reason for the Guild
Nothing!
Good Points on the Guild
Nothing!
Bad Points on the Guild
Nothing!
Members
Creator
Admins
Members
Enemies/Allies
Everyone and No one!
Last Thoughts
So join the DaDono Family because it might very well be disbanded tomarrow, and you might think that the other guilds are better. But lets face it do they have a mix of typhlosion and a hamster on their Wiki Page?
I thought so...